Hi. Our company helps its clients communicate more effectively.  We're not an ad agency or public relations firm.  We're writers who specialize in creative, effective, highly affordable candidate and issue campaigns for small-market candidates, non-profits and community organizations.
The idea is that the writing we do for you will make your campaigns more interesting, more compelling and generally more likely to accomplish their objectives.
To learn more about what we do, please read Communication is everything. which is one of the articles on this blog. Just click on the link and you'll go right to it.
(Clicking on the cartoon makes it larger.)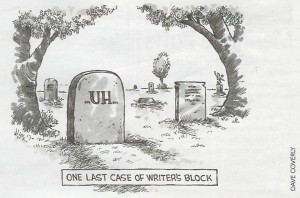 When you're ready, whatever your questions, all you have to do is send us an email to Contact@Writeaway.us or press the Contact Us menu button and fill out our contact form. Either way, we'll be back to you within 24 hours.
And if you're a company considering hiring full-time, staff writers, you might want to read this flier…
For Agencies And Other Companies In The Market For Full-Time Staff Writers
Thanks for stopping by.
-Writeaway
P.S. That's our Fearless Leader on the left. We insisted that we show his picture, he's so handsome – and the more we kiss-up, the more we get paid. Not to worry. He's much more intelligent than he looks.  …And yes, he wrote the caption for his picture.  Impressive, isn't it?!